[Screenshots]
[Download]
[Register]
[Manual]
[Support]
[References]
[Basic Skills] [Drills] [Add User] [Activate Keyboard]
KP TT supports Dvorak keyboards, and many other keyboard layouts in different languages. Generally, after loading a profile, KP TT will activate appropriate keyboard layout automatically.

If for some reasons the keyboard layout loaded does not adapt your physical keyboard, you may manually activate a keyboard layout for KP TT. After saving the profile, the setting of keyboard layout will be saved as well, so next time when you run KP TT again, the desired keyboard layout will be activated automatically.
Please note that the keyboard layout activated will only be effective inside KP TT program, and all other Windows applications will still use the default Windows keyboard layout.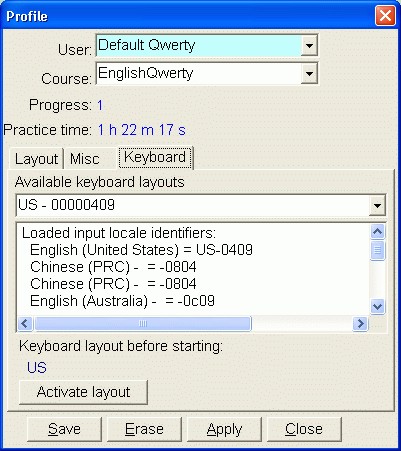 Note: Even if a keyboard layout appears in the drop-down list, the keyboard driver file might not be already installed.

If the relevant keyboard driver for the layout is not installed on your operating system, a warning will appear.